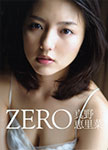 Mano Erina's new photobook Zero will be released on August 27.
This is the first photobook of Mano Erina for almost one year.
The theme is a lonely girl living in the countryside without knowing the rest of the world. She has a feeling of nostalgia and healing. She is trying to do her best to discover the city to find happiness.