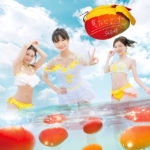 SKE48 will release their new single Igai ni Mango (意外にマンゴー) on July. 19
This is the 21st single of the idol group SKE48.
The selected members (senbatsu) are: Matsui Jurina, Kitagawa Ryoha, Ego Yuna, Oba Mina, Obata Yuna, Kitano Ruka, Soda Sarina, Takayanagi Akane, Takeuchi Saki, Hidaka Yuzuki, Furuhata Nao, Kimoto Kanon, Kumazaki Haruka, Goto Rara, Suda Akari and Yahagi Yukina.
The central member is Obata Yuna ; This is the first time she has a position on an A-side song.