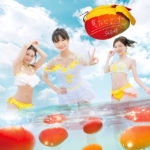 SKE48 will release their new single Igai ni Mango (意外にマンゴー) on July. 19
This is the 21st single of the idol group SKE48.
The selected members (senbatsu) are: Matsui Jurina, Kitagawa Ryoha, Ego Yuna, Oba Mina, Obata Yuna, Kitano Ruka, Soda Sarina, Takayanagi Akane, Takeuchi Saki, Hidaka Yuzuki, Furuhata Nao, Kimoto Kanon, Kumazaki Haruka, Goto Rara, Suda Akari and Yahagi Yukina.
The central member is Obata Yuna ; This is the first time she has a position on an A-side song.
This is the last single with Oya Masana who announced her graduation of SKE48. She performs a solo song Eien no Legacy on this single.
Several editions will be available.
Tracklist
Type A

CD

Igai ni Mango (意外にマンゴー)
Party ni wa Ikitakunai (パーティーには行きたくない) (Team S)
Kiseki no Ryuuseigun (奇跡の流星群) (Passion For You Senbatsu)
Igai ni Mango (off vocal)
Party ni wa Ikitakunai (off vocal)
Kiseki no Ryuuseigun (off vocal)

DVD

Igai ni Mango (Music Video)
Party ni wa Ikitakunai (Music Video)
"Igai ni Mango" Full Coverage Documentary in Taiwan ~Center Obata Yuna~ (「意外にマンゴー」密着ドキュメンタリーin台湾 ~センター小畑優奈~)
Type B

CD

Igai ni Mango (意外にマンゴー)
En wo Egaku (円を描く) (Team KII)
Kiseki no Ryuuseigun (奇跡の流星群) (Passion For You Senbatsu)
Igai ni Mango (off vocal)
En wo Egaku (off vocal)
Kiseki no Ryuuseigun (off vocal)

DVD

Igai ni Mango (Music Video)
En wo Egaku (Music Video)
SKE48 Theater Debut 8th Anniversary Special Performance Part 1 (SKE48劇場デビュー8周年特別記念公演 前編)
Type C

CD

Igai ni Mango (意外にマンゴー)
Ore Toku (オレトク) (Team E)
Kiseki no Ryuuseigun (奇跡の流星群) (Passion For You Senbatsu)
Igai ni Mango (off vocal)
Ore Toku (off vocal)
Kiseki no Ryuuseigun (off vocal)

DVD

Igai ni Mango (Music Video)
Ore Toku (Music Video)
SKE48 Theater Debut 8th Anniversary Special Performance Part 2 (SKE48劇場デビュー8周年特別記念公演 後編)
Type D

CD

Igai ni Mango (意外にマンゴー)
Eien no Legacy (永遠のレガシー) (Oya Masana solo)
Kiseki no Ryuuseigun (奇跡の流星群) (Passion For You Senbatsu)
Igai ni Mango (off vocal)
Eien no Legacy (off vocal)
Kiseki no Ryuuseigun (off vocal)

DVD

Igai ni Mango (Music Video)
Eien no Legacy (Music Video)
"Eternal Legacy" Oya Masana Documentary (「永遠のレガシー」大矢真那ドキュメンタリー)
Theater Edition

CD

Igai ni Mango (意外にマンゴー)
Yume no Kaidan wo Nobore! (夢の階段を上れ!) (Kenkyuusei)
Kiseki no Ryuuseigun (奇跡の流星群) (Passion For You Senbatsu)
SKE48 21st Single Medley
Igai ni Mango (off vocal)
Yume no Kaidan wo Nobore! (off vocal)
Kiseki no Ryuuseigun (off vocal)
Music Video (PV)