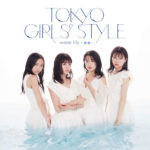 The new single Tokyo Girls' Style released their new single on July 5.
It is called water lily ~Suiren~ (water lily ~ 睡蓮 ~).
The MV was unveiled.
The style of the song water lily ~Suiren~ is close to the reggaeton style.
The single has available in three versions: regular (CD), limited (CD+DVD) and a music card.
The CD of the regular edition contains an additional title.
Tracklist
Regular Edition

CD

water lily ~Suiren~ (water lily ~睡蓮~)
illusion
water lily ~Suiren~ (PARKGOLF Remix)
water lily ~Suiren~ (Instrumental)
illusion (Instrumental)
Limited Edition

CD

water lily ~Suiren~ (water lily ~睡蓮~)
illusion
water lily ~Suiren~ (Instrumental)
illusion (Instrumental)

DVD

TOKYO GIRLS' STYLE * GIRLS BAND -AKASAKA OKUNAI ONGAKU DOU- [LIVE DIGEST]
Music Video (PV)