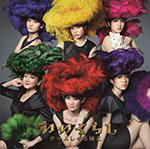 Team Syachihoko's new single Iikurashi (いいくらし) will be released on May 14.
This is the 3rd major single from Team Syachihoko.
The covers, the costumes and the new profile photo of the idol group from Nagoya have been unveiled.
The MV for Iikurashi (いいくらし) and Team Syachihoko no Yasai Seikatsu Taisou (チームしゃちほこの野菜生活体操) have been released.