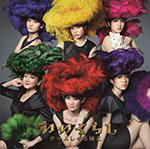 Team Syachihoko's new single Iikurashi (いいくらし) will be released on May 14.
This is the 3rd major single from Team Syachihoko.
The covers, the costumes and the new profile photo of the idol group from Nagoya have been unveiled.
The MV for Iikurashi (いいくらし) and Team Syachihoko no Yasai Seikatsu Taisou (チームしゃちほこの野菜生活体操) have been released.
In the PV for Team Syachihoko no Yasai Seikatsu Taisou, the members of the idol group practice gymnastics and give vegetable juice to a family for their breakfast. The tie-up song is part of a promotional campaign for the vegetable juice brand Yasai Seikatsu 100 (野菜生活100). Team Syachihoko no Yasai Seikatsu Taisou is available in the Nagoya version of the single which will be on sale only in this area and at concert venues.
As Sakamoto Haruna was absent during the photo shooting, she was replaced by the comedian Edo Harumi on the covers. Sakamoto Haruna was studying in order to take an important school exam at this time. She will be back along with the other members of Team Syachihoko soon. Both Sakamoto Haruka and Edo Harumi are appearing on the music video.
The title Iikurashi (いいくらし) means "good life". It refers to a lifestyle concept.
The lyrics of the lead song were written by Mochiishiriri. The music was composed and arranged by Yoshida Tetsuto.
4 editions are available. The CD contains 3 songs and their instrumental versions. The tracklisting is the same for each one of them.
The Yarou (野郎盤) and the Otome (乙女盤) editions include a DVD with live performances and bonus footage.
Furthermore, Team Syachihoko will hold a free live tour from April 26 to May 18 in Kyoto, Tokyo, Kawasaki and Nagoya.
The concert Tenchou Summit!!! ~Arigatou wo Tsutaekiretenaku~ (店長サミット!!!~ありがとうを伝えきれてなくて~) will take place on May 11 at Nakano Sun Plaza.
Team Syachihoko will hold Syachi Summer ~Kamigami Matsuri~ (しゃちサマ~神々の祭り~) on August 28 at Nippon Budokan in Tokyo.
Tracklist
CD

Iikurashi (いいくらし)
Enjoy Jinsei (エンジョイ人生)
Daisuki! (大好きっ!)
Iikurashi (いいくらし) (Off Vocal)
Enjoy Jinsei (エンジョイ人生) (Off Vocal)
Daisuki! (大好きっ!) (Off Vocal)
DVD (Yarou Edition)

Yarou Night 2014 (野郎Night 2014) @ Ex Theater Roppongi 2014.2.21

Katte ni Hybrid (勝手にハイブリッド)
The Stardust Bowling (ザ・スターダストボウリング)
Otome Juken Sensou (乙女受験戦争)

Hako no Nakami wa Nan Deshou (箱の中身はなんでしょう?)
DVD (Otome Edition)

Otome Matsuri 2014 (乙女祭り2014) @ Ex Theater Roppongi 2014.2.22

Koibito wa Sniper (恋人はスナイパー)
Shuto Iten Keikaku (首都移転計画)
Soko Soko Premium (そこそこプレミアム)

GGC (Giroppon Girls Collection) (ギロッポンガールズコレクション)
Music Video (PV)