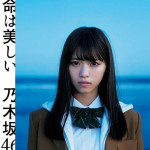 Nogizaka46's 11th single Inochi wa Utsukushii (命は美しい) will be released on March 18.
The list of the Senbatsu members have been announced. The center is Nishino Nanase.
The title Inochi wa Utsukushii means "Life is beautiful". The theme of the leading song is that life is a beautiful and important thing, but also that it is ephemeral and painful.
The covers of the 4 editions of the single have been revealed.