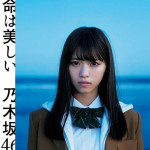 Nogizaka46's 11th single Inochi wa Utsukushii (命は美しい) will be released on March 18.
The list of the Senbatsu members have been announced. The center is Nishino Nanase.
The title Inochi wa Utsukushii means "Life is beautiful". The theme of the leading song is that life is a beautiful and important thing, but also that it is ephemeral and painful.
The covers of the 4 editions of the single have been revealed.
On the pictures, the members of Nogizaka46 appear in front of the seaside. The sunrise, the sunset and the sea symbolize life.
The photo shooting was done in early February at Kujukuri Beach in Chiba prefecture. The art director was Yanagawa Keisuke (Handsome), and the photographer was Aono Chihiro.
The MV has been unveiled. However, its viewing is restricted to some countries.
The tracklist and further details on Nogizaka46's 11th single will be announced later.
Senbatsu members : Ikuta Erika, Shiraishi Mai, Nishino Nanase, Hashimoto Nanami, Matsumura Sayuri, Ikoma Rina, Akimoto Manatsu, Fukagawa Mai, Sakurai Reika, Wakatsuki Yumi, Eto Misa, Takayama Kazumi, Hoshino Minami, Saito Asuka, Ito Marika, Hori Miona, Sagara Iori, Matsui Rena
Music Video (PV)
Covers