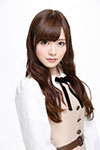 Shiraishi Mai (Nogizaka46) will be starring in the drama Kamen Teacher (仮面ティーチャー).
Shiraishi Mai will play as Hayase Akari who is Tenkawa Atsushi's lover. The character is in a coma after a suicide attempt, but she has an important role in the story.
Kamen Teacher (仮面ティーチャー) is based on the manga of the same name by GTO's Fujisawa Toru.