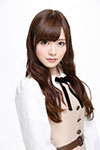 Shiraishi Mai (Nogizaka46) will be starring in the drama Kamen Teacher (仮面ティーチャー).
Shiraishi Mai will play as Hayase Akari who is Tenkawa Atsushi's lover. The character is in a coma after a suicide attempt, but she has an important role in the story.
Kamen Teacher (仮面ティーチャー) is based on the manga of the same name by GTO's Fujisawa Toru.
The story is about a new teacher that has been hired in a high school in which many students are delinquents. He is helped by a mysterious masked teacher.
The leading role is played by Fujigaya Taisuke (Kis-My-Ft2). Other cast members are Natsuna, Kubota Masataka, Jesse (Johnny's Jr), Yasui Kentaro (Johnny's Jr), Kakizawa Hayato, Tsukada Ryoicihi (A.B.C-Z)…
The drama will be broadcast on February 14 on NHK.
Furthermore, Nogizaka46's 8th single will go on sale on April 2.