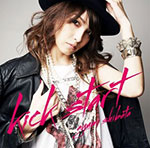 Shibata Ayumi's new album Kick Start will be released on February 19.
Kick Start includes 10 tracks. Shibata Ayumi performs rock covers of songs by Japanese artists such as Hamada Mari, Kubo Ruriko, Lindberg…
Shimata Ayumi is a former member of Melon Kinenbi and Hello! Project. This is her 1st solo album.
Only one edition of the CD is available.
In addition, Ayumi Shibata Live 2014 〜Kick Start〜 B.D Special will be held on February 22 at Shibuya WWW in Tokyo.
Tracklist
Dear Friends / Personz
Watashi wa Arashi (私は嵐) / Show-Ya
Break Out! / Aikawa Nanase
Return to Myself / Hamada Mari
Tenshi no Kyuusoku (天使の休息) / Hisamatsu Fumina
Ima Sugu Kiss Me (今すぐKiss Me) / Lindberg
Otoko (「男」) / Kubo Ruriko
Chance! / Shirai Takako
Sekai de Ichiban Atsui Natsu (世界でいちばん熱い夏) / Princess Princess
Friends (フレンズ) / Rebecca