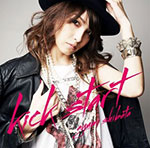 Shibata Ayumi's new album Kick Start will be released on February 19.
Kick Start includes 10 tracks. Shibata Ayumi performs rock covers of songs by Japanese artists such as Hamada Mari, Kubo Ruriko, Lindberg…
Shimata Ayumi is a former member of Melon Kinenbi and Hello! Project. This is her 1st solo album.