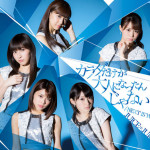 The 7th single des Juice=Juice Next is you! / Karada Dake ga Otona ni Nattan ja nai (カラダだけが大人になったんじゃない) was released on February 3.
It contains a double A side.
The single was produced by Tsunku.
The song Next is you is sung by the idol group under the name NEXT YOU. It was also performed in the drama series Budokan.