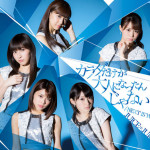 The 7th single des Juice=Juice Next is you! / Karada Dake ga Otona ni Nattan ja nai (カラダだけが大人になったんじゃない) was released on February 3.
It contains a double A side.
The single was produced by Tsunku.
The song Next is you is sung by the idol group under the name NEXT YOU. It was also performed in the drama series Budokan.
The single will be released in several editions with different covers : two regular editions rated A and B (including only the CD) and four limited editions rated A, B, C and D (each including a different DVD bonus).
The DVDs contain the music videos of the main songs and other videos on the songs (performance video, choreography, etc…)
Tracklist
CD

Limited A, C, Regular A Editions

Next is you! (as NEXT YOU)
Karada Dake ga Otona ni Nattan ja nai (カラダだけが大人になったんじゃない)
Next is you! (Instrumental)
Karada Dake ga Otona ni Nattan ja nai (Instrumental)

Limited B, D, Regular B Editions

Karada Dake ga Otona ni Nattan ja nai (カラダだけが大人になったんじゃない)
Next is you!
Karada Dake ga Otona ni Nattan ja nai (Instrumental)
Next is you! (Instrumental)
DVD

Limited Edition A

Next is you! (Music Video)

Limited Edition B

Karada Dake ga Otona ni Nattan ja nai (Music Video)

Limited Edition C

Next is you! (Dance Shot Ver.)

Limited Edition D

Karada Dake ga Otona ni Nattan ja nai (Dance Shot Ver.)
Music Video (PV)