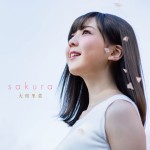 Yamato Rina is going to make her solo debut with the album Sakura on sale on March 16.
Yamato Rina is a former Nogizaka46 member. She was part of the 1st generation. She graduated from the idol group in December 2014.
The album contains 6 tracks which are titled Sakura, including 5 covers of songs by various artists such as Moriyama Narotaro, Ikimono Gakari, Ketsumeishi, Kawaguchi Kyogo and Funky Monkey Babys. They were selected by Yamato Rina herself.
She has also performed an original song.
The word "sakura" (cherry blossom) refers to one of the symbols of the spring in Japan, and to ex Nogizaka46 Yamato Rina's future after her solo debut.
Tracklist
さくら (森山直太朗カバ)
SAKURA (いきものがかりカバー)
さくら (ケツメイシカバー)
桜 (河口恭吾カバー)
桜 (FUNKY MONKEY BABYSカバ)
sakura (Original Song)