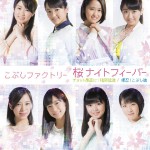 The new single of Kobushi Factory entitled Sakura Night Fever / Chotto Guchoku ni! Chototsu Moushin / Osu! Kobushi Tamashii (桜ナイトフィーバー / チョット愚直に!猪突猛進 / 押忍!こぶし魂) will be released on February 17.
It's the 2nd major single of Kobushi Factory. It contains a triple A-side.
The video clips of Chotto Guchoku ni! Chototsu Moushin and Osu! Kobushi Tamashii were unveiled.
The song Sakura Night Fever is a cover of the original song by KAN.
The single will be released in 3 regular editions rated A, B and C and 3 limited editions also rated A, B and C. The limited editions A, B, and C are each provided with a different bonus DVD.
Limited editions and the first press regular editions will come with a serial number card for lottery for the chance to win a ticket to one of the single launch events.
A special box set will also be published, which will include all versions; many events will be organized.
Tracklist
CD

Sakura Night Fever (桜ナイトフィーバー)
Chotto Guchoku ni! Chototsu Moushin (チョット愚直に!猪突猛進)
Osu! Kobushi Tamashii (押忍!こぶし魂)
Sakura Night Fever (Instrumental)
Chotto Guchoku ni! Chototsu Moushin (Instrumental)
Osu! Kobushi Tamashii (Instrumental)
DVD

Limited Edition A

Sakura Night Fever (Music Video)

Limited Edition B

Chotto Guchoku ni! Chototsu Moushin (Music Video)

Limited Edition C

Osu! Kobushi Tamashii (Music Video)
Music Video (PV)