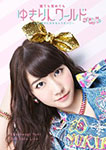 Kashiwagi Yuki 3rd Solo Live Nete mo Samete mo Yukirin World ~Motto Muchuu ni Sasechauzo~ (柏木由紀 3rd ソロライブ 寝ても覚めてもゆきりんワールド 〜もっと夢中にさせちゃうぞっ〜) will be released on DVD and Blu-ray on March 19.
The concert was held on November 7, 2013 at Yokohama Arena.
Kashiwagi Yuki performed her solo songs and other ones from AKB48 and French Kiss.