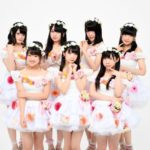 Iketeru Hearts welcomed 4 new girls this August.
The announcement was done on August 19, at the idol group's recent live performance ~Dreaming Love Kimi no Moto e~ at Shibuya duo MUSIC EXCHANGE.
The 4 new girls who joined Iketeru Hearts are: Aise Risako, Imai Aki, Koizumi Shiika and Shiroki Leia.
Discover their profile pictures below.