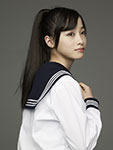 Hashimoto Kanna's 1st photobook Little Star ~Kanna 15~ will be released on November 14th.
The DVD and Blu-ray editions will be on sale on February 3rd.
Hashimoto Kanna is a popular idol and a member of Rev. from DVL. She is known as the "too angelic idol that we can find only once in a thousand years".
Check out some pictures from the photobook.