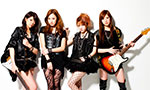 Tanaka Reina's band LoVendoR will hold LoVendoR 1st Live Tour 2013 Haru (LoVendoЯ ファーストライブツアー2013春~ ラベンダー ~) from March 27 to May 14.
LoVendoR is a new Japanese band lead by Tanaka Reina (Morning Musume).
LoVendoR will perform for the first time at Music Festa Vol.0 (ミュージックフェスタVol.0) presented by Satoyama Movement in Yokohama on March 2 at Yokohama Blitz.