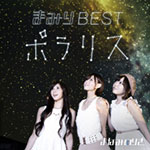 Manaminorisa's new album Mamiri Best ~Polaris~ (まみりBest ~ポラリス~) will be released on November 27.
As its name suggests, this is a best-of album.
The CD contains 13 tracks including Manaminorisa's latest singles and a new song titled Polaris Episode Zero (ポラリス Episode Zero).
The limited edition includes a DVD with 2 music videos and bonus footage.
Check out the video message from the members of Mamiri.