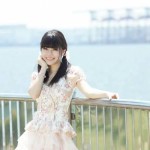 It is with great sadness that we have to report the death of Maruyama Karin (丸山夏鈴).
Rin-chan passed away from lung cancer on May 22. She was 21 years old.
In spite of a cancer and a brain tumor, Maruyama Karin did her best to realize her dreams to become an idol. She continued her activities until her last breath.