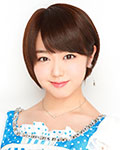 AKB48 announced that Minegishi Minami suspended her activities for an indeterminate period of time because of poor physical health.
She didn't participate in Team 4's live performance at AKB48 Theater and was taken to hospital on June 20.
Minegishi Minami passed medical examination and has been diagnosed with renal cyst.