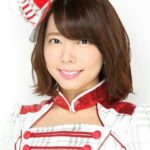 The vice-captain of Team A, Nakamura Mariko (中村麻里子), announced her graduation from AKB48.
This announcement was made on March 15 during a concert of the AKB48 at the group's theater.
The reason she decided to leave the group is due to her desire to be a TV newscaster and to be a personality loved by the people of her area. As a result, she will join Sun Television in Hyogo from April to become an TV announcer.