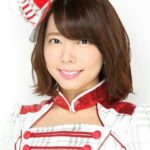 The vice-captain of Team A, Nakamura Mariko (中村麻里子), announced her graduation from AKB48.
This announcement was made on March 15 during a concert of the AKB48 at the group's theater.
The reason she decided to leave the group is due to her desire to be a TV newscaster and to be a personality loved by the people of her area. As a result, she will join Sun Television in Hyogo from April to become an TV announcer.
Nakamura Mariko recently graduated from university on March 16, which ultimately led to her decision.
She will leave the band on March 31st.
Nakamura Mariko, nicknamed Komari (こまり), was born on December 16, 1993 and is aged 23. She joined the AKB48 as a member of the 9th generation. She joined Team 4 in 2010 before being transferred to Team B in August 2012. She is a member of the Team A team captain since the team shuffle, of the groups of franchise 48, held in March 2014.