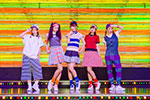 Idol group Especia announced in late December the release of its new EP Primera planned for February 18, 2015.
The list of titles and the new album covers were unveiled.
Primera is the third mini album of Especia but also their first to be released under a major label Version Music (Victor Entertainment), as the title of the new EP could indicate it (« primera » Spanish term meaning « first »). The previous mini albums are Dulce and Amarga.