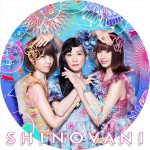 ShinoVani will release their new single Onna no Ko Otoko no Ko / Kokoro no Sagi (おんなのこ☆おとこのこ/ココロノウサギ) on September 28.
ShinoVani is a special group formed of the singer Shinohara Tomoe and the idol group Vanilla Beans. They host together their TV program Shino × Vani since April 2015.
The single release was announced by themselves on an episode of their TV program on July 27.