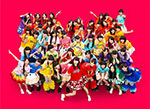 3B Junior Live Final "Ore no Fujii" 2014 ("俺の藤井" 2014) will be released on DVD and Blu-ray on April 23.
The setlist has 36 songs from all of Stardust's idol units : Minitia☆Bears, Team Hotaru Ika, Team Daiou Ika, KAGAJO☆4S, Takoyaki Rainbow, Team Syachihoko, Shiritsu Ebisu Chuugaku, Tenkasu Trio, Team Toumeihan, Momoiro Clover Z.
The concert was held at Green Dome Maebashi on January 4, 2014.