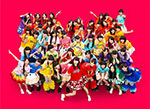 3B Junior Live Final "Ore no Fujii" 2014 ("俺の藤井" 2014) will be released on DVD and Blu-ray on April 23.
The setlist has 36 songs from all of Stardust's idol units : Minitia☆Bears, Team Hotaru Ika, Team Daiou Ika, KAGAJO☆4S, Takoyaki Rainbow, Team Syachihoko, Shiritsu Ebisu Chuugaku, Tenkasu Trio, Team Toumeihan, Momoiro Clover Z.
The concert was held at Green Dome Maebashi on January 4, 2014.
Also, the event will be broadcast on TBS Channel 1 on March 30, 19:00 – 20:30 (UTC/GMT+9) and its repeated broadcast on April 26, 18:00 – 19:30 (UTC/GMT+9).
Furthermore, 3B Junior's single Nanairo no Stardust (七色のスターダスト) is on sale since January 1st.
Setlist
Minitia☆Bears

Minitia Ouenka (みにちあ応援歌)
Minitia☆1.2.3 (みにちあ☆123)
Minitia☆100 (みにちあ☆100)
Takoyaki Rainbow

Over the Takoyaki Rainbow (オーバー・ザ・たこやきレインボー)
Naniwa no Haniwa (なにわのはにわ)
Meccha Funk (めっちゃFunk)
Kagajo☆4S

Oyoge! Shirasu Chan (およげ!しらすちゃん)
Kimerarenai yo, Docchika Nante (決められないよ、どっちかなんて)
Mainichi ga Christmas (毎日がクリスマス)
Team Daiou Ika

Diving (ダイビング)
Team Syachihoko

Iikurashi (いいくらし)
Pizza Desu! (ピザです!)
Sokosoko Premium (そこそこプレミアム)
Otome Juken Sensou (乙女受験戦争)
Daisuki! (大好きっ!)
Shiritsu Ebisu Chuugaku

Mikakunin Chuugakusei X (未確認中学生X)
Karikeiyaku no Cinderella (仮契約のシンデレラ)
Yuuwaku Shitai ya (誘惑したいや)
Tsukatte Portfolio (使ってポートフォリオ)
Houkago Geta Bako Rock'n'Roll MX (放課後ゲタ箱ロッケンロールMX)
Tenkasu Trio / Ariyasu Momoka, Kashiwagi Hinata, Ito Chiyuri

Eien no Trinity (永遠のトリニティー(三位一体))
Team Toumeihan / Mayama Rika, Yasumoto Ayaka, Oguro Yuzuki, Hori Kurumi

Toumeihan Hizakurige (東名阪☆膝栗毛)
Momoiro Clover Z

Birth Ø Birth
Kasou Dystopia (仮想ディストピア)
Naichaisou Fuyu (泣いちゃいそう冬)
Itsuka Kimi ga (いつか君が)
Sora no Curtain (空のカーテン)
Roudou Senka (労働讃歌)
Ikuze! Kaitou Shoujo (行くぜっ!怪盗少女)
Hagane no Ishi (鋼の意志)
3B Junior


Nanairo no Stardust (七色のスターダスト)