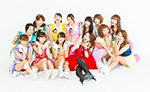 Team Makenki's new single Mugen, Fly High!! (無限、Fly High!!) is going to be released on September 17.
Team Makenki is a special idol unit consisting of members from Up Up Girls (Kari), The Possible and Kikkawa You. They are produced by Up Front.
Check out the MV with English subtitles.