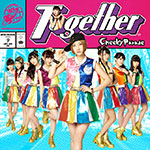 Cheeky Parade's new mini-album Together will be released on June 18.
10 versions of the MV have been released : 1 featuring all the members, and 9 others featuring each one of them.
The new artwork has been unveiled. As Cheeky Parade will hold a concert in New York on October 11, the pictures are designed in a comic book style.