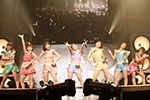 Up Up Girls (Kari) 1st Zenkoku Tour UpGa Dai Ni Shou (Kari) Shingun ~Nakano Sun Plaza Chou Kessen~ (アップアップガールズ(仮)1st全国ツアー アプガ第二章(仮)進軍~中野サンプラザ 超決戦~) will be released on Blu-ray on September 30th.
As the title suggests, it includes the final live performance of Up Up Girls (Kari) 1st nationwide tour. The event took place on June 1, 2014 at Nakano Sun Plaza.
The digest video has been unveiled.