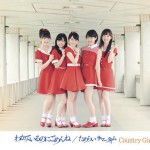 The new single of Country Girls entitled Wakatte Iru no ni Gomen ne / Tamerai Summertime (わかっているのにごめんね / ためらいサマータイム) is on sale since August 5.
It's the 2nd single of Country Girls previously known as Country Musume. It's also the 1st single of the group after the withdrawal of one of its members Shimamura Uta in last June.
The single contains a double A-side.