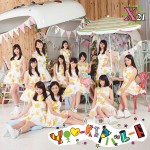 X21's 5th single You-kI no Parade (YOU-kIのパレード) will be released on September 23.
The members of X21 have to take up a challenge. It was announced that if the single doesn't reach the top 10 ranking, or if there are less than 10,000 copies sold in the first week, the idol group will stop indefinitely its activities at the end of the year.
Watch the music video.