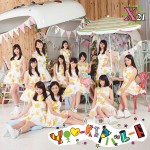 X21's 5th single You-kI no Parade (YOU-kIのパレード) will be released on September 23.
The members of X21 have to take up a challenge. It was announced that if the single doesn't reach the top 10 ranking, or if there are less than 10,000 copies sold in the first week, the idol group will stop indefinitely its activities at the end of the year.
Watch the music video.
The lyrics of the lead song were written by Mori Yukinojo. The theme is "if you do great efforts, your dream will come true".
It is an EDM (electronic dance music) song.
According to the members, the title is a word play with "yuuki (勇気)" meaning "courage" in Japanese, and the English words "you" and "I".
12 girls were selected for this single. They are wearing new colorful costumes.
Furthermore, X21 2nd One-man Live will be held on September 26 at Zepp DiverCity, Tokyo.
Tracklist
Regular Edition

CD

You-kI no Parade (YOU-kIのパレード)
Shinpai Everyday (心配エブリディ)
Waku Waku Walkin' (ワクワク☆WALKIN')
You-kI no Parade (Instrumental)
Shinpai Everyday (Instrumental)
Waku Waku Walkin' (Instrumental)
Limited Edition

CD

You-kI no Parade
Shinpai Everyday
You-kI no Parade (Instrumental)
Shinpai Everyday (Instrumental)

DVD

You-kI no Parade (Music Video)
MV Off-Shot
Music Video (PV)