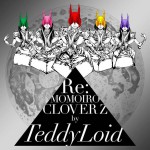 The idol group Momoiro Clover Z released a special album entitled Re:MOMOIRO CLOVER Z on September 16.
This is a remix album of the idol group. It will contain songs in their original version and remixed songs by TeddyLoid (from the group galaxias!).
This is an album containing songs of Momoiro Clover Z although it is assigned to TeddyLoid. Tofubeats (who worked with the idol group lyrical school) co-remixed one song of the album.
Discover the tracklist below.
One edition only will be available.
In addition, Momoiro Clover Z announced the simultaneous release of two studio albums in January 2016, which will be respectively their 3rd and 4th original albums. More informations about these albums will be given later.
Tracklist
CD1

Link Link
DNA Kyoushikyoku (DNA狂詩曲)
CONTRADICTION
Zenryoku Shoujo (全力少女)
Ame no Tachikara wo (TeddyLoid & tofubeats Remix) (天手力男)
Kuroi Shuumatsu (黒い週末)
Kasou Dystopia (仮想ディストピア)
Chai Maxx ZERO
GOUNN
BIONIC CHERRY
Yume no Ukiyo ni Saite Mina (夢の浮世に咲いてみな)
Seishunfu (青春賦)
"Z" no Chikai (『Z』の誓い)
Neo STARGATE (TeddyLoid 2015 Remix)
CD2

Re:MOMOCLO NONSTOP MIX
MOMOCLO DJ REMIX Vol.1
MOMOCLO DJ REMIX Vol.2