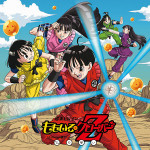 Momoiro Clover Z new single "Z" no Chikai (『Z』の誓い) will be on sale on April 29.
It is the theme song for the anime movie Dragon Ball Z Fukkatsu no "F" (ドラゴンボールZ 復活の「F」).
Momoclo members are drawn as Dragon Ball Z characters or wearing Frieza costumes on the covers of the single.
Check out the MV and the trailer.