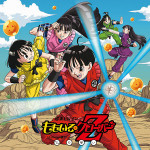 Momoiro Clover Z new single "Z" no Chikai (『Z』の誓い) will be on sale on April 29.
It is the theme song for the anime movie Dragon Ball Z Fukkatsu no "F" (ドラゴンボールZ 復活の「F」).
Momoclo members are drawn as Dragon Ball Z characters or wearing Frieza costumes on the covers of the single.
Check out the MV and the trailer.
The cover art was made by Toei Animation.
The lyrics of "Z" no Chikai were written by Mori Yukinojo. The music was composed by Narasaki.
The B-side track Romantic Kongaragatteru was written by Tadano Natsumi and composed by Invisible Manners.
The F version comes with a bonus Blu-ray featuring the music video.
The Z version includes a cover of the original opening theme song of the anime Cha-La Head-Cha-La by Momoiro Clover Z.
Dragon Ball Z Fukkatsu no "F" (ドラゴンボールZ 復活の「F」) movie will be released in theaters on April 18 in Japan.
Tracklist
F ver.

CD

"Z" no Chikai (「Z」の誓い)
Romantic Kongaragatteru (ロマンティックこんがらがってる)
"Z" no Chikai (off vocal)
Romantic Kongaragatteru (off vocal)

Blu-ray

"Z" no Chikai (music video)
Z ver.

CD

"Z" no Chikai
Romantic Kongaragatteru
Cha-La Head-Cha-La
"Z" no Chikai (off vocal)
Romantic Kongaragatteru (off vocal)
Cha-La Head-Cha-La (off vocal)
Music Video (PV)