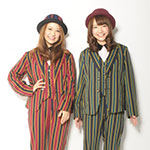 hy4_4yh's new single Love Genome / Tengoku ⇔ Jigoku 2015 (Love Genome / 天国⇔地獄2015) will be released on May 13.
This is the 20th single by hy4_4yh. It is a double A-side.
Both tracks are love songs.
Only one edition of the CD is available.
Furthermore, the live hy4_4yh presents 「Tokyo Funkotribe Vol:1~Keep the fire in. ~」 will be held on April 19 at Shimokitazawa Shelter, Tokyo. Jockie "Mastabass" Suama, KazuyaP, Shisotex and totsumal will perform at the event as Funkot DJ.
Tracklist
Love Genome
Tengoku ⇔ Jigoku 2015 (Love Genome / 天国⇔地獄2015)
Love Genome (Instrumental)
Music Video (PV)