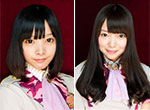 Takada Atsumi and Asahara Momoko are going to graduate from Meguriai.
Their graduation live will be held in December.
Takada Atsumi is a member of the 2nd generation of Meguriai, and Asahara Momoko belongs to the 3rd generation.
The announcement was made during their live which took place on September 16 at Shibuya Deseo in Tokyo.
Moreover, Meguriai's 7th single Mirai e! ~Emerge~ (未来へ!〜Emerge〜) will go on sale on October 4.