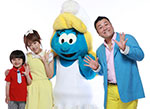 Takahashi Minami will be voicing in the Japanese dubbed version of the animated movie The Smurfs 2 (スマーフ2).
AKB48's general manager Takahashi Minami will voice the  Smurfette. This role is performed by Katy Perry in the US version.
The Smurfs 2 will be released in theaters on August 16 in Japan.
Trailer