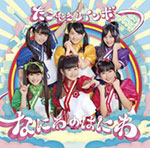 Takoyaki Rainbow's new single Naniwa no Haniwa (なにわのはにわ) will be released on March 19.
This is the 2nd single from Takoyaki Rainbow.
The MV has been released.
The title song is produced by Maeyamada Kenichi, aka Hyadain, who worked with Momoiro Clover Z. It is an energetic song.
2 versions are available. Each CD contains 3 songs. The 3rd track is different for each one of them.
In addition, the idol group will hold a live tour from February 2 to March 23 in Hyogo, Tokyo, Osaka, Fukuoka and Aichi Prefectures.
Tracklist
Kansai Limited Edition (関西限定盤)

Naniwa no Haniwa (なにわのはにわ)
Rainbow Revolution (レインボーレボリューション)
Chanto Hashire!!!!!! (ちゃんと走れ!!!!!!)
Sekigahara Isei Limited Edition (関ヶ原以西限定盤)

Naniwa no Haniwa (なにわのはにわ)
Rainbow Revolution (レインボーレボリューション)
Meccha Funk (めっちゃFunk)
Music Video (PV)