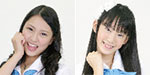 Rev. from DVL announced the graduation of Narunaru and Kanae.
Both members will hold their graduation ceremony during Rev. from DVL's live performance on February 8 in Fukuoka. Narunaru and Kanae thanked fans for their support.
After leaving the idol group, Matsuda Narumi and Shintani Kanae will continue their solo activities as talent for Active Hakata (アクティブハカタ).
It's been almost 2 years that none member had graduated from Rev. from DVL.
This surprise announcement was made on January 25.