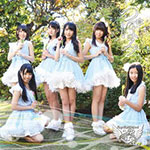 Flap Girls' School's new single Tsubomi (つぼみ) was released on January 21.
This is the 1st single from Flap Girls' School.
The MV recorded during a live performance and the rehearsal has been released.
This CD was long awaited by fans as the idol group was formed in 2012.
2 versions are available. Each CD includes 3 songs. The coupling songs are different for each one.
Tracklist
Type A

Tsubomi (つぼみ)
Sunrise
Kimi ga Suki!! (君が好き!!)
Type B

Tsubomi (つぼみ)
Nijiiro no Stage (虹色のステージ)
Open School no Uta (オープンスクールのうた)
Music Video (PV)