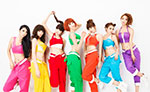 Ria joined Weather Girls as a new member.
She will participate in Weather Girls' upcoming single Tomorrow World.
Ria will be in charge of the weather forecast on Wednesday with the Taiwanese idol group.
She replaces Dara whose contracted was terminated by the agency last October.
Ria was born on October 8 in Taiwan, her zodiac sign is libra. Her height is 159 cm. Her favorite food is pork rind. She explained that her special skill was to be able to say the name of all the pieces of beef in Japanese.
Moreover, Weather Girls' 5th single Tomorrow World will go on sale on March 5.
The announcement was made on January 24.