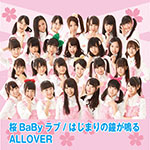 Allover's 5th single Sakura BaBy Love (桜BaByラブ) will be released on February 26.
Allover is a special idol unit consisting of members from several other idol groups such as Candy Go! Go!, asfi, Nato☆Kan, Cover's Doll, Honey Squash, Super Lips, Try☆Fing, Kaiketsu! Tropical Maru…
The MV has been released.
The members who participated in this single are :
Team α : Sekine Yumi, Watase Jun
Team β : Akizuki Yume, Endo Haruka, Konno Kasumi, Aihara Saki, Nakayama Serina, Futaba Riko
Team γ : Kariyama Kyoko, Tokoi Yuki, Katase Satsuki, Kato Arisa, Aoi Natsumi, Hoshino Saki, Onuma Mina, Aizawa Nao
Team δ : Isshiki Kyoko, Inaba Misaki, Uetake Yua, Enta Haruka, Konishi Yuna, Matsushita Ai, Matsushita Erika, Misaki Mayu
Support : Ohba Chihiro, Saida Marin, Natsui Miku
The lyrics of the title song were written by Marushita Fumihiro. The music was composed by Okawa Shigenobu and arranged by Yamaguchi Yuta.
11 editions of Allover's 5th single are available. They contain 3 songs and their instrumental versions. The 3rd track is different for each edition.
The Type B edition includes a bonus DVD the music video.
Tracklist
CD

Sakura BaBy Love (桜BaByラブ)
Hajimari no Kane ga Naru (はじまりの鐘が鳴る)
Whip Run Love (ホイップるんLove)
Sakura BaBy Love (桜BaByラブ) (Instrumental)
Hajimari no Kane ga Naru (はじまりの鐘が鳴る) (Instrumental)
Whip Run Love (ホイップるんLove) (Instrumental)
DVD (Type B)

Sakura BaBy Love (桜BaByラブ) (PV)
Clip Vidéo (MV)