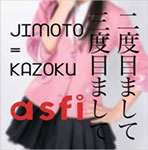 asfi's new single Jimoto=Kazoku / Ni Dome Mashite! San Dome Mashite! (Jimoto=Kazoku / 二度目まして!三度目まして!) will be released on April 18.
This is the first single of asfi since the graduation of Hoshikawa Dariru and Watase Jun.
A video of the title song recorded during a live performance has been released.