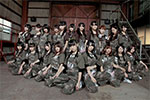 Allover will hold Love All on March 25.
Starmarie, Candy Go! Go!, asfi, Anna☆S, Nato☆Kan, DokiDoki☆Dream Campus, Smile☆Pocket, and Cover's Doll will perform at the concert as guests. The members of these groups are part of Allover project.
The live event will take place at Shimokitazawa Garden, Tokyo.
Allover's 3rd single Tatakai wa Korekara (戦いはこれから) has been released on February 20.
Schedule
Date : 25/03/2013
Time : 18:00
Venue : Shimokitazawa Garden, Tokyo
Idols :

Allover
Starmarie
Candy Go! Go!
asfi
Anna☆S
Nato☆Kan
DokiDoki☆Dream Campus
Smile☆Pocket
Cover's Doll