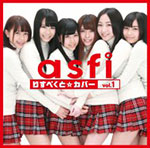 asfi's new single Respect Cover Vol.1 (りすぺくと☆カバー Vol.1) will be released on April 29.
This single is a tribute to Hello! Project. The CD includes 4 cover songs of by °C-ute, Berryz Kobo, Buono! and Morning Musume.
asfi is an idol group formed in 2011. The unit consists of 6 members and is based in Shibuya, Tokyo.
Tracklist
Massara Blue Jeans (まっさらブルージーンズ) (°C-ute)
Special Generation (スぺッシャルジェネレ~ション) (Berryz Kobo)
Hatsukoi Cider (初恋サイダー) (Buono!)
Renai Revolution 21 (恋愛レボリューション21) (Morning Musume)