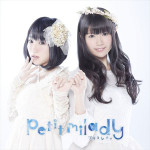 Petit Milady's new single Azurite will be released on February 5.
This long-awaited CD is the 2nd single from Petit Milady.
The MV and the TV spot have been unveiled.
The lead track is the opening theme song for the anime The Pilot's Love Song (とある飛空士への恋歌 ; Toaru Hikuushi e no Koiuta) which started airing in January.
It is an uptempo tune.
The lyrics were written by Meg Rock who worked with anison singers such as Nakagawa Shoko (Shokotan), LiSA, Aoi Eir, Hanazawa Kana in the past. The music was composed by Ito Kenichi.
Tracklist
CD

Azurite
Suki Kirai Kirai Daisuki (スキ キライ キライ 大スキ♡)
Azurite (Instrumental)
Suki Kirai Kirai Daisuki (Instrumental)
DVD

Azurite (Music Video)
Music Video (PV)